In his career Eric has worked as in-house litigation counsel, as Vice-President of Litigation, and as Director of LTD and Life Insurance Claims for a large Canadian life insurance company. Following these roles Eric practiced for 10 years as a Partner in the insurance litigation defense group at Blaney McMurtry LLP in Toronto before becoming a full-time mediator of LTD, Life and other insurance claims in 2013. Eric is author of the leading text on Disability Insurance Law in Canada and of Eric's LTD Update Newsletters, a sought after speaker, and an expert in LTD and life insurance law with over 37 years of experience in these fields. Roughly 25% of Eric's mediations include employment law issues.
EDUCATION
B.A., 1981, Queen's University
LL.B., 1984, Queen's University
Called to the Bar of Ontario, 1986
F.L.M.I. (Fellow of the Life Management Institute), 1996
Executive Certificate in Conflict Management, University of Windsor and Stitt Feld Handy, 2016
MEMBERSHIPS
Eric is a member of:
The Canadian Academy of Distinguished Neutrals
The ADR Institute of Ontario
The Law Society of Ontario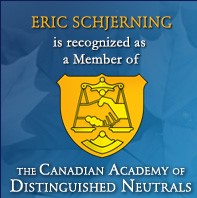 LITIGATION EXPERIENCE
Eric has appeared numerous times before the Ontario Court of Justice (General Division), the Ontario Superior Court of Justice, the Ontario Court of Appeal, and the Ontario Human Rights Commission.